BBVA brand's value lies in the perception its stakeholders have of it
BBVA brand is one of the Group's intangible assets whose value lies in the perception the Bank's various groups of stakeholders have of it. This perception is based on the promise they receive from the Bank. The Group therefore identifies the BBVA brand with the promise it makes to its stakeholders and the experiences they share with it.
Simplicity and responsibility, the keys to our brand positioning: "BBVA: a Bank that makes life easier for its customers"
Based on this brand concept the Bank has worked to understand the most relevant aspects of this promise. This is how the BBVA brand positioning originates: a Bank that makes life easier for its customers. And simplicity and responsibility are the differential ways we have of being customer-centric.
Simplicity as synonymous for agility, flexibility, accessibility, convenience and closeness
The commitment to simplicity is based, above all, on the core elements that play a decisive role in each point of contact with our customers, both current and potential: branches, remote customer service, communication, etc.:
Agility and flexibility,

which have to do with simplifying paperwork, expediting procedures, offering solutions to customer problems and cutting waiting times.

Accessibility and convenience,

i.e. an extensive branch network and a physical and remote distribution model tailored to the needs of our customers.

Closeness:

more customized service.
One of the main tools that help to address these aspects is the commitment to innovation. This commitment is reflected not only in the constant search for improvements for customers through new technologies, but also in all the processes related to work practices, product design, customer relations, channels, etc.
BBVA wants to stand out as a responsible Bank that conducts its financial activity really thinking about people
BBVA is committed to a different approach to banking. We want to be profitable, but that does not mean doing business at all costs. At BBVA we talk about "principles adjusted return". And this desire to be different as a responsible Bank is embodied in our 2013 Responsible Business Plan.
Consumers want more balanced relationships with their bank. Speaking to them clearly and transparently is essential
But, what do we mean by responsible business? We have asked customers and non-customers (people who use banking services) in the main countries in which we operate, and they have spoken out very clearly. Being perceived as a responsible Bank means it is essential to focus on building more balanced relationships with our customers. The starting-point is being clearer and more transparent and encouraging informed decision-making. Closely related to this idea is employee management. Consumers remind us of the importance of having trained, motivated and principled employees, since they are the main ambassadors of our brand.
As explained in the "Strategic positioning" chapter, the new Responsible Business Plan is based on three core strategic lines:
Transparent, clear and responsible communication

(TCR) to help our customers make informed decisions.

Education

as a single umbrella for social programs, including financial literacy as a priority.
The development of products with a high

social impact

, bearing in mind the needs of the customers and the circumstances they are living in.
Our communication in 2013 has continued to make progress in the implementation of this BBVA brand positioning and of our corporate identity.
BBVA's advertising communication is focused on using its positioning as a base for consolidating the brand at a global level
In advertising communication, the priority goals have been to consolidate the brand at a global level and align BBVA's message and presence around the world with the pillars of customer-centric and simplicity. Other key goals have been to achieve a greater level of efficiency/profitability with our partners and make the most of cross-cutting best practices that can contribute value to the Group.
New forms of communication proliferate in today's world, and digital channels and the penetration of social media are becoming increasingly important. In order to adapt to this environment, BBVA has revised and created a new Advertising Communication Management Model. This new model has been developed as a global strategy that is applied locally, according to the needs of each market. Under this model, the first global campaign in the Group's history was launched in 2013: "BBVA donde estés" (BBVA wherever you are), which features the best players (Iker Casillas, Andrés Iniesta, Kevin Durant and James Harden) from the two best leagues in the world (Liga BBVA and the NBA) in a spot where they make what seems difficult easy. BBVA offers its customers the best way to access its financial products and services, quickly, easily, wherever they are and through all the channels: website, mobile apps, tablets, ATMs, branches, etc.
A single corporate identity that enables the brand to be identified quickly and clearly
In addition, progress has been made to implement the corporate identity at all the points of contact, paying special attention to the digital world and physical spaces, such as the new "Ciudad BBVA" headquarters in Madrid.
BBVA, a benchmark in financial communication through Internet and social media
The communication strategy through Internet and social networks reinforces BBVA's brand positioning. The new media are fundamental to improve customer relations. This means that in pursuit of simplicity, users are given the best possible service, wherever they are, through the social media. That is why the Bank's constantly developing presence in the new media is the responsibility of everyone in BBVA. Many teams specialized in various areas (Communication and Brand content generation, development of innovative formats in New Digital Channels, marketing departments in the different countries and customer service areas, Human Resources, BBVA Research, Innovation, etc.) contribute to improving the service provided through these channels. Collaboration among experts in various areas leads to effective management and coordination of communication in today's changing and difficult environment. The BBVA community on the social media is growing every day and already has more than 10 million followers. The Group's latest news on these media is available in real time on the corporate blog bbvasocialmedia.com. Currently, 168 profiles are included under the umbrella of the BBVA brand on Facebook, Twitter, Linkedin, YouTube and Google+ in 11 countries. Lastly, it is worth noting that BBVA has closed the year with several awards for its work in communication via the social media, reinforcing even further the Bank's benchmark position in this area. According to PRNoticias, BBVA was the most innovative company in financial communication in 2013 "for its commitment to new channels and new media that bring it even closer to its target audiences." In addition, the company specialized in social network analytics Alianzo published a study on the position of Spanish banks in this type of media, highlighting BBVA's leadership in an area where much still remains to be done and awarding the Entity as the "Best bank in social network" in Spain in 2013. The key of BBVA to success lies in the interest and use of published contents for the stakeholders, emphasizing the diffusion of advices to improve the management of domestic economy and promote sport and brand sponsorship. This is with a clear focus on the advantages provided by the use of new technologies. Other recognitions include: the TNS Spain award for the best sports page on Facebook for "Yo subo con Carlos Soria" (I climb with Carlos Soria) and the "Corporate Communications Awards" nominations for the crisis management system.
Sponsorship reinforces the brand's attractiveness by associating BBVA with universal domains of global scope which share values with its corporate culture
Sponsorships are another channel used by BBVA to reinforce the brand's attractiveness, through a strategy based on three pillars: recognition, positioning in values and commercial operation. Soccer and basketball are the most important universal domains with which BBVA is associated. Worth mentioning again are the sponsorships of the Professional Soccer League in Spain, officially known as Liga BBVA and Liga Adelante; and of the NBA, which includes the WNBA and the NBA Development League in the United States, Mexico, South America, Spain, Portugal and Turkey.
In soccer, BBVA has carried out a number of initiatives, such as the brand's presence in all Liga BBVA broadcasts worldwide; the development of a digital ecosystem, "Liga BBVA", with content of interest to users that integrates the brand in an effective and natural way; and links with soccer-related social projects. In addition, BBVA is also active in soccer at local level in the markets in which it operates, including the recent sponsorship of Liga BBVA Bancomer MX in Mexico and the two greatest clubs in the history of soccer in Argentina (Boca and River).
Several initiatives are worth mentioning in basketball, such as "NBA Banking", launched in early 2013 in the United States. It includes a package of products that creates a differential banking experience for customers, leveraged on elements they love about the NBA competition. It effectively combines competitive financial products and services with NBA contents, such as the times of basketball games, relevant news, the chance to win NBA products, and the option to customize debit cards with the image of the holder's favorite team. For yet another year it has continued to support the "NBA Cares" social program to reach thousands of children through financial literacy programs. BBVA Compass has also partnered the home team, the Houston Dynamo, in the "Building a Better Community" project. This includes rebuilding homes and revitalizing the green areas around the stadium, as well as improving children's education. BBVA has also continued to sponsor the "BBVA Compass Rising Stars".
In 2013, BBVA has continued to support the "BBVA Ambassadors" project, which brings together famous people from various walks of life who share fundamental BBVA values, such as the spirit of self-improvement, integrity, cooperation, humility and responsibility. The collaboration between BBVA and its brand ambassadors extends beyond the use of their image in advertising campaigns. It also includes their participation in activities related to corporate responsibility. BBVA began this program with Iker Casillas and Andrés Iniesta, who were later joined by the NBA players Kevin Durant (Oklahoma City Thunder) and James Harden (Houston Rockets). Carlos Soria continues to be another ambassador. At 74 years of age, this mountaineer has set himself the challenge of climbing the 14 highest mountains in the world. Carlos continues to participate in the "Momentum Himalaya" project, an initiative in the Nepali village of Sama (at 3,500 meters above sea level) that is developing various methods of sustainable finance for a local school providing a home for 120 children in the area.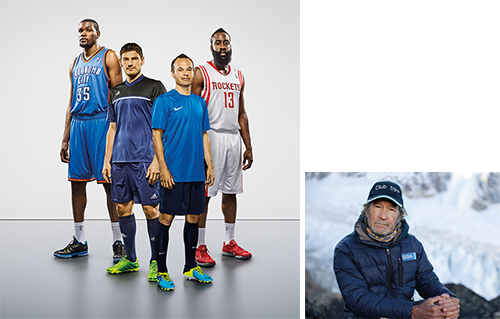 For yet another year, BBVA brand management has been recognized by experts with the top score
This year, the sustainability analysis agency SAM (Sustainable Asset Management) has maintained the overall ranking of BBVA brand management. It has once again granted the BBVA brand the top score, well above the average for the financial sector. This agency evaluates the companies listed on one of the most prestigious sustainability indices, DJSI (Dow Jones Sustainability Index).
BBVA's brand management score in 2013
(Scale 1-100)

Source: SAM.
One of BBVA's key strengths which is most highly valued by experts is the system of standardized measurement tools to monitor how the brand is perceived in the main countries in which the Group operates. Awareness of the BBVA brand and its reputation continue to be high in all the countries in which the Bank operates.
BBVA brand awareness
(Scale 1-100)

Download Excel


Spain
Mexico
Argentina
Chile
Peru
Colombia
Venezuela
The United States


2013
2012
2013
2012
2013
2012
2013
2012
2013
2012
2013
2012
2013
2012
2013
2012
Awareness

68.7

68.4

87.8

88.7

62.2

77.3

27.4

19.0

74.6

74.0

35.3

20.9

59.4

67.8

12.5

14.2
Awareness (ranking position)

2nd

1st

1st

1st

3rd

3rd

5th

5th

2nd

2nd

4th

6th

2nd

2nd

6th

6th
Reputation with customers

73.5

73.8

67.8

68.9

76.0

78.5

67.8

64.9

75.5

77.0

69.2

65.5

76.8

80.5

73.1

74.0
Awareness is a percentage of people who mention being aware of the BBVA brand spontaneously. Reputation is a grade from 0 to 100. The data for awareness and reputation are for the first nine months (January to September) for 2013. Statistically significant changes: positive in green and negative in orange. Awareness data source: Advance Tracking Programme, MillwardBrown. Reputation data source: RepTrak, Reputation Institute. Spain: Santander, La Caixa, Banesto, ING Direct, Bankia, Banco Popular, Bankinter and Banca Cívica. Mexico: Santander, Banamex, HSBC, Banorte, Scotiabank, Inbursa and Banco Azteca. The United States: Bank of America, Capital One, Chase, Regions, Wells Fargo, Citibank y Wachovia. Argentina: Santander Río, Banco Galicia, Banco Provincia, Standard Bank/ICBC, Citibank, Banco Nación, Banco Patagonia/Sudameris, HSBC, Banco Ciudad, Itaú/Buen Ayre and Banco Macro. Chile: Banco de Chile, Santander, Scotiabank, Itaú, BCI, Falabella, Eduardsciti, Banco Estado, HSBC, Corpbanca and BICE. Colombia: Banco de Bogotá, Bancolombia, Citibank, Colmena BCSC, Davivienda, AV Villas, Banco de Occidente, Banco Caja Social, Colpatria, Grupo Aval, Éxito, Santander and Corpbanca. Peru: Banco de Crédito, Interbank, Banco de la Nación, HSBC, Scotiabank, Citibank, Banco Falabella, Banco Azteca, Crediscotia, Banco Financiero and Banbif. Venezuela: Banesco, Banco Mercantil, Banco de Venezuela and BOD.