This unit includes the Retail Network, with the individual customer, private banking and small businesses in the Spanish market; Corporate and Business Banking (CBB), which handles the needs of the SMEs, corporations and institutions; and other businesses, including BBVA Seguros.
Retail and Commercial Banking managed a volume of performing loans of €147,998m at the close of 2013, down 11.0% on the end of the previous year. On-balance-sheet customer funds amounted to €129,556m, a rise of 7.9% over the year.
Within this unit, the Retail Network closed the year with a balance of performing loans of €92,414m (down 8.8% year-on-year), and on-balance-sheet customer funds of €104,768m, a rise of 6.7% on the figure for 31-Dec-2012.
Commercial actions carried out by this unit in 2013 have been geared toward increasing the customer base and its bundling and providing a service with the highest quality standards. The following aspects are of note:
In an environment of a growing customer base, the definition and structuring of the welcome process for new customers has been tackled. Following the current protocol, the Bank is formally presented with its institutional strength, complete range of products and services, and an explanation of the advantages for customers and the benefits of being a loyal customer.
One of the chief asset products is the "Préstamo Inmediato" (Immediate Loan). This is a pre-authorized loan that can be arranged via multi-channel banking, with the amount and price personalized on the basis of a behavioral analysis of each customer. In consumer finance, the "Pack Dúo" offers a "Después" card that postpones payment for ordinary purchases, and the complementary "A tu Ritmo" revolving payment card for purchases that the customer prefers to finance, as well as a series of discounts for purchases at retailers which are part of the scheme.
On the liabilities side, a variety of products have been developed this year to attract customers and reward their loyalty. Among them are the "Depósito Creciente (Growing Deposit), which offers liquidity and an interest rate that grows over time; the "Depósito 12/18/24", which applies preferential interest rates in cases where the customer's positions increase under the terms regulated by the product; and the "Depósito BBVA Tranquilidad" (BBVA Peace of Mind Deposit), which rewards loyalty, basically in terms of deposits and regular payments, automatic deposit of pay checks and pensions, and pre-authorized debits of bills and credit cards. In addition, in an environment of very low interest rates, and for customers with the right investor profile, a diversified catalog of mutual funds is being sold made up of mixed funds,

equity

, short-term fixed-income and long-term fixed-income.
These commercial actions are increasingly attracting more new customers and strengthening banking relations with them. Proof of this is that the Bank's market share as main provider of financial services has risen by 40 basis points to 11.8% according to FRS (data as of June 2013, the latest available).
A clear reflection of the high level of customer loyalty is that 61% of them are benefiting from the financial advantages of the program "Adiós Comisiones" (Goodbye, Fees); and thanks to the program, BBVA's market share in payrolls and pensions has increased by 41 and 75 basis points, respectively, over the year (figures as of December 2013).
BBVA continues to be very active within the Retail Network on the development of products and services for Premium customers, a segment in which the Bank is growing significantly in Spain. As well as the sale of savings, investment or pension products specifically designed for their needs, a variety of initiatives and privileges have been developed for this segment. First, in order to improve customer experience, relationships with the bank manager by scheduled appointments are being encouraged, which enables the Bank to save a significant amount of time, offer greater dedication and provide a better advice. In the area of non-financial services, the "Family Wealth Community" has established itself as the first closed community for "BBVA Patrimonios" customers with content on different areas of interest: the economy, taxation, regulation, legal news, investment, insurance and family enterprises. This community is making specialized knowledge available to customers, promoting debate and exchange of opinions within a forum for people with similar interests.
CBB manages a loan book of €52,162m (down 14.4% year-on-year) and on-balance-sheet customer funds of €23,578m (up 5.5%). This unit has set itself the target of meeting solvent loan demand in a proactive way. This has been achieved through the "Plan + Negocio" plan, based on appropriate management, proximity and analysis of the investment projects of customers and non-customers with proven solvency. In addition, BBVA has confirmed its leading role in distributing ICO (Official Credit Institute) credit lines, which reflect lending activity in this unit. The signing of the 2013 Agreement has boosted several different lines under preferential conditions. Of particular note are the lines "Companies and Entrepreneurs" "International", "Long and Short-term Exporters" and "SGR Guarantee", as well as others aimed at foreign and domestic trade and tourism. BBVA has also signed the new lines "Film Production", "Natural Disasters" and "Promissory Notes and Corporate Bonds". According to cumulative data through 31-Dec-2013, the Bank arranged 24,257 operations for €1,743m, 21% higher than the amount arranged as of the same date in 2012.
In this environment, being close to customers implies being up to date with their collections and payments. This is why in 2013 the product and service range offered by the "Negocio Inteligente" (Intelligent Business) scheme was completed. In addition to the POS terminal capabilities, an option has been added to offer advance payments to customers who have been with the Bank for some time. As well as creating a closer relationship with them, the management of collections and payments can identify potential new customers. Specifically, in 2013 a range of products and services has been designed for suppliers of BBVA customers. For large companies there is a promotion for syndicated factoring and accounts payable funding. As the procedure is channeled through a single agent bank, the operation is simplified and the quality of the funding granted and the image of the company for third parties are enhanced.
Customers are also taking advantage of the opening up of markets and the renewed international investor appetite for bond issuances as an alternative to traditional banking funding. The search for increased profitability has led to an increase in both investment grade and high-yield bond issues. The participation of BBVA in nearly all these kinds of operations is consolidating its leading position in the fixed-income market in Spain.
The foreign sector, has become one of the essential levers for economic recovery in Spain. BBVA continues with the strong commitment to supporting its customers in their process of internationalization. First, it has expanded and boosted the network of foreign trade specialists, with a highly significant exercise of customized segmentation. In 2013 the project "Sinergias Internacionales" (International Synergies) was established with the aim to build a global range of products and services for the Bank's customers in all the countries where the Group is present.
In the public sector segment there has been collaboration on the development of Phase I of the new Supplier Payment Fund, with a figure of over €4,000m, although at the end of the year this amount has been significantly reduced as a result of the partial early repayment in November. Another highlight in 2013 has been the renewal for the fourth year in a row of the collaboration agreement with the National Federation of Associations of Self-Employed Workers (ATA). This is a key organization that represents 500,000 self-employed people and 824 professional associations. At present it has 80 offices in Spain. BBVA works closely and maintains more than 120 commercial agreements with trade associations, 20 agreements with local governments, 30 with chambers of commerce, 15 with reciprocal guarantee companies and more than 40 with business groups at regional and national level, with the aim of providing access to credit facilities and supporting employment through business associations.
The "BBVA Contigo" service, offering remote personalized advice, continued to consolidate its position in 2013. At the end of the year, the number of users was around half a million.
The Insurance unit comprises several companies with the strategic goal of becoming the benchmark in the insurance business among the different BBVA customer segments. It manages an extensive range of insurance products through direct insurance, brokerage and reassurance, using various networks.
In insurance activity, the premiums written by BBVA insurance companies in Spain amounted to €2,319m (up 9.0% year-on-year). This implies a growing positive contribution to earnings in the area.
Life-savings insurance has contributed premiums of €1,796m (up 11.7% year-on-year). The growing amount of savings, together with the integration of the Unnim insurance business, has led to a year-on-year increase of 29% in managed customer funds to €12,348m as of 31-Dec-2013. This shows the confidence customers have in BBVA Group's capability to manage their savings. Along these lines, it is worth noting that at the close of the third quarter of 2013 (latest available figures, Source: ICEA), BBVA was leader in written premiums for PIAS Scheduled Savings Plans, with a market share of 27.4% of premiums amounting to €369m through September. Activity in risk insurance, both life and non-life, amounted to €523m in written direct insurance premiums (up 0.6% year-on-year). The unit has also brokered premiums for other companies for €198m.
Market shares in PIAS as of 31-Sep-2013. Seguros and main competitors
(Percentage)

Source: ICEA.
As of 31-Dec-2013, the Insurance unit had 3.3 million policyholders, maintaining a high quality of service, as reflected by the complaint-free resolution of more than 90% of life insurance claims reported and 99% of home insurance policies. Periodic independent measurements granted the home insurance policies a score of 8.2 out of 10 for service received during the claims process.
BBVA Seguros. Policyholder breakdown
(Thousands policies. 31-12-2013)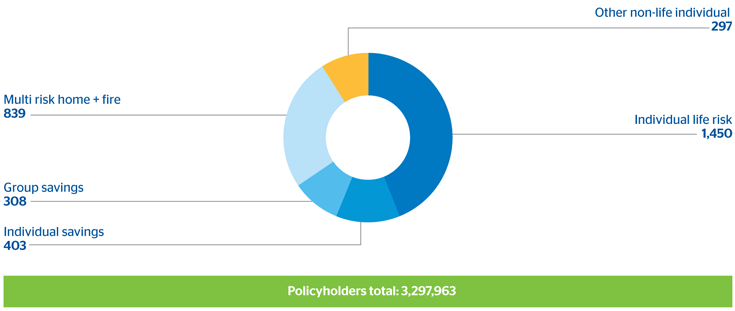 In its insurance catalog, BBVA continues to redefine certain products in order to tailor them to customer needs, and to make them simpler and more competitive. It has launched the "Seguro de Vivienda BBVA" (BBVA Home Insurance), a modular and flexible product through which customers can contract what they really need, from basic protection to total protection, according to the characteristics of their home.
The end-of-year campaign in the pension business has focused on the "PPA BBVA" (Guaranteed Pension Plan), which offers customers a guaranteed minimum annual return of 3.25% over a 10-year investment horizon. If they transfer their plan to the PPA BBVA from another entity, customers obtain a special bonus of up to 3%, depending on the amount contributed. A "Mi Jubilación" (My Retirement) plan has also been launched. This is a pioneering initiative in financial literacy that aims to increase knowledge among the population of economic aspects related to pension systems. The project is focused on three lines of action: first, the creation of the BBVA Pensions Institute, which will bring together the knowledge and intellectual rigor of a forum of independent experts from the academic world and socioeconomic research; second, promotion of financial literacy; and lastly, customer guidance through pension simulations and a value proposition tailored to their needs. BBVA has made available the "BBVA Mi Jubilación" application for mobile devices, for customers and non-customers alike. It estimates simply and intuitively the income that will be received on retirement.
Progress has also continued to be made in the multi-channel strategy in 2013, with a firm commitment to innovation and digital channels, in order to bring financial products and services to customers no matter where they may be. The new website bbva.es has been launched in the second quarter of 2013, leading to a notable increase in the functionalities available in the channel. As well as guaranteeing the highest levels of security, the design of this website simplifies all the operations. At the same time, the website bluebbva.com has been launched, providing content and information that respond to what young people are demanding. Mobility is another priority in multi-channel distribution. "BBVA Wallet" addresses this need, as it allows customers to carry out transactions with their credit cards from cell phones, or make payments from their cell phones using contactless technology. All these initiatives are being warmly received, as shown by the fact that the Bank's digital channels already have two million active users. Lastly, the development of technological channels is also a priority for the SME segment. In 2013 progress was made in increasing the capacity of "BBVA Net Cash", focused on the incorporation of questions related to foreign trade and online guidance for international business.