Corporate Lending
The BBVA Corporate Lending team is worldwide recognized for its excellence in structuring, assurance and placement of syndicated loans for corporative clients. BBVA remains the leader in this business on the Iberian Peninsula. In 2013 it led the syndicated finance of EDP, Iberdrola, El Corte Inglés and the inaugural syndicated loan to Enagas, among others. It has also led the syndicated bridge to bond loans to refinance Adif and Antolin. In addition, it has been one of the three institutions leading the financing for the acquisition by Grifols of the vaccines and diagnostics division of Novartis in the United States.
In the rest of Europe there has been the closing of revolving credit facilities for large European companies such as Daimler, Evonik, Carrefour, ENEL, Siemens, Unilever and Nestlé. In addition, BBVA has been coordinator of the demerger operation of World Duty Free from the Autogrill group.
In Latin America BBVA has led the main operations in 2013. The Group has had significant success in acquisition finance activity, leading some of the major deals in the region, such as Grupo Gigante, Alsea and American Tower in Mexico, CFR in Chile and Hochschild in Peru.
In the United States, BBVA Compass has acted as joint lead arranger in a number of operations, among them the acquisition of Strike LLC by One Equity Partners and loans for Best Buy, Avon and Chicago Bridge & Iron.
Main Corporate Lending transactions in 2013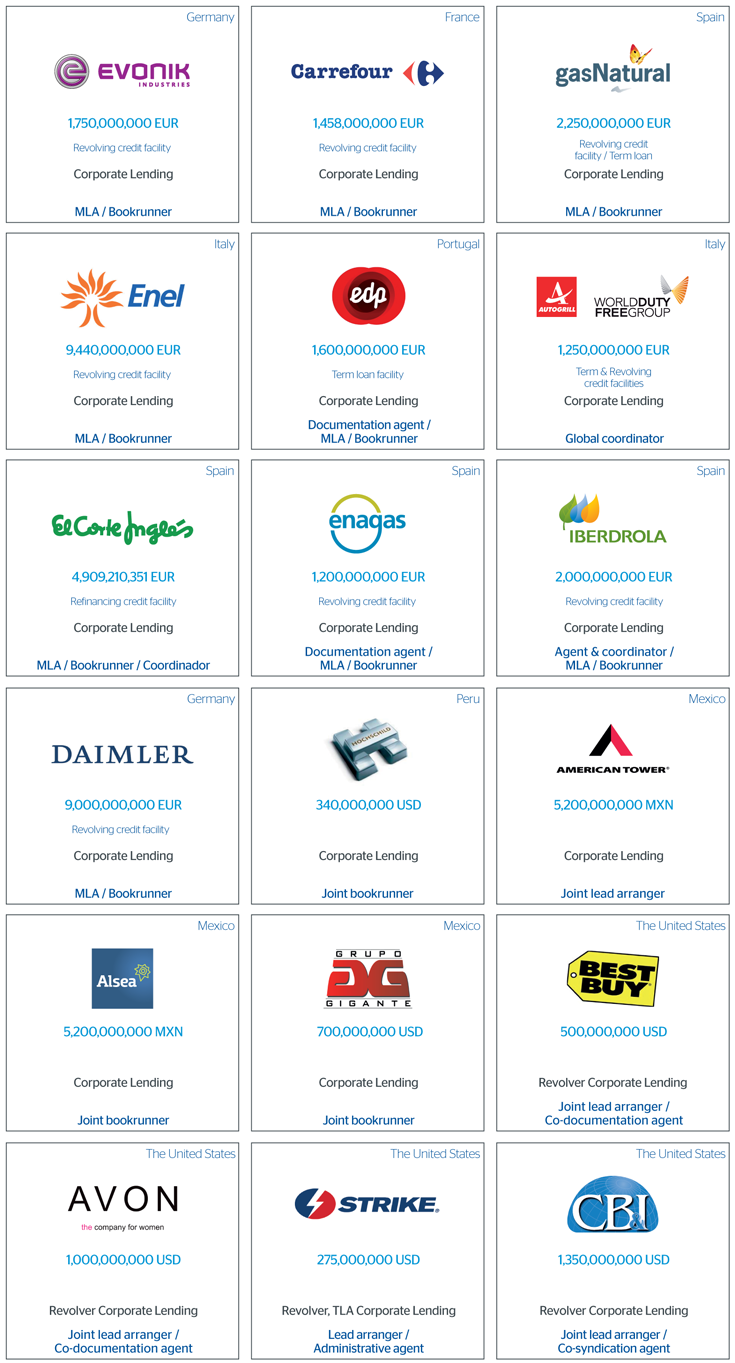 Project Finance y Leveraged Finance
In Project Finance Europe, BBVA has consolidated a high-value support model for its customers through advice and finance in more than 20 operations in the sectors of infrastructure (N636, A66, Euroports, Vigo Hospital, the City Hall in Vitoria, Saba, etc.), energy (Bahía de Bizkaia Gas, Madrileña Red de Gas, etc.), telecommunications (Hispasat), etc. It has also developed pioneering initiatives such as project bonds. Leveraged acquisition finance includes that for the purchase of Marelli Motori in Italy by the Carlyle Group and the purchase of Clínica Teknon in Spain by the consortium formed by Quiron and DoughtyHanson.
In Latin America, BBVA has continued to be extremely active in 2013, closing a number of deals and executing significant advice mandates. In the energy sector there was the finance for the Chaglla hydroelectric plant, the Ancoa-Alto Jahuel transmission line in Chile and the portfolio of the Chihuahua gas pipeline assets in Mexico. In infrastructures there has been finance for the Port of Callao in Peru, the acquisition of the Intercontinental, Ritz and Crowne Plaza hotels in Chile and the underwater fiber optic cable company Globenet in Brazil. In addition, the loan for the acquisition of Atento has been financed with bonds. Lastly, also noteworthy is the operation for the acquisition of a company of oil extraction services in Colombia by SouthernCross.
In the United States BBVA has led the finance for the expansion of the Sabine Pass gas liquefaction project, as well as the NET Mexico natural gas pipeline for Pemex and ArcLight.
Main Project Finance transactions in 2013