CIB has been able to revise, adequately, its lending policies in line with the current environment. Performing loans closed 31-Dec-2013 with a year-on-year decline of 2.0% to €45,355m. This performance is due to the lower balances in Europe and, to a lesser extent, in the United States. Wholesale customers in Spain have reduced their exposure with BBVA by 7.2% since the end of 2012. In Eurasia, the year-on-year decline has been 11.9% and in the United States, 2.8%. In contrast, there was positive performance in Mexico, with a particularly buoyant wholesale portfolio in the latter part of the year, showing year-on-year growth of 14.7%, and also in South America (up 14.0%).
CIB. Key activity data
(Million euros at constant exchange rates)

(1) At current exchange rates: -5.5%.
(2) Exludes repos.
(3) At current exchange rates: +17.7%.
CIB.
Performing loans

breakdown by countries

(December 2013. Percentage)

The asset quality of the portfolios forming part of this business shows good levels in both NPA and coverage. The NPA ratio closed the year at 1.6%, a very stable level compared with the end of 2012 (1.5% as of 31-Dec-2012), while the coverage ratio improved to 80% (71% as of 31-Dec-2012).
CIB. NPA and
coverage ratio

s

(Percentage)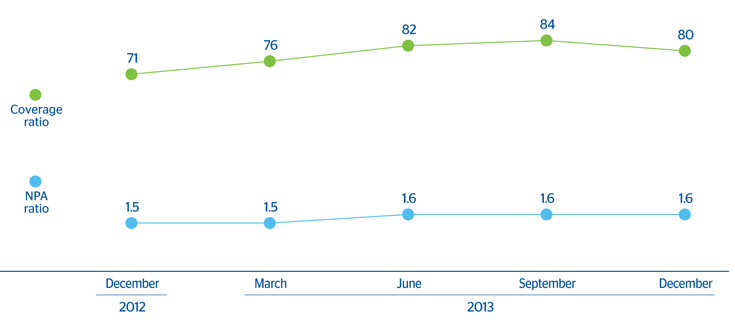 The performance in customer deposits under management improved and picked up pace over the last 12 months (up 30.6%). As of 31-Dec-2013 they amounted to €34,750m. The main reasons for this strong performance were again the diversification in geographical areas and products, as well as the increase in the customer base of deposit holders.
These factors have led to further improvement in the commercial and liquidity gap of the Group's wholesale business.
CIB. Breakdown of
customer deposits under management

by countries

(December 2013. Percentage)