BBVA is an organization based on the principles of integrity, prudence and transparency
Working for a better future for people is a commitment that the Group defines from the most basic fundamentals of responsible business conduct: principles. BBVA is an organization driven by the principles of integrity, prudence and transparency.
Integrity

, as an expression of ethics in the Group's activity and in its relations with stakeholders (customers, employees, shareholders, suppliers and society at large).

Prudence

, understood basically as the principle of caution in risk-taking.

Transparency

, as the maxim that prevails throughout its activity to offer access to clear and truthful information within the bounds of the law.
In short, this way of working can be summarized in a business model based not only on the traditional risk-adjusted return, but also on the principle-adjusted return.
1 Vision, principles and values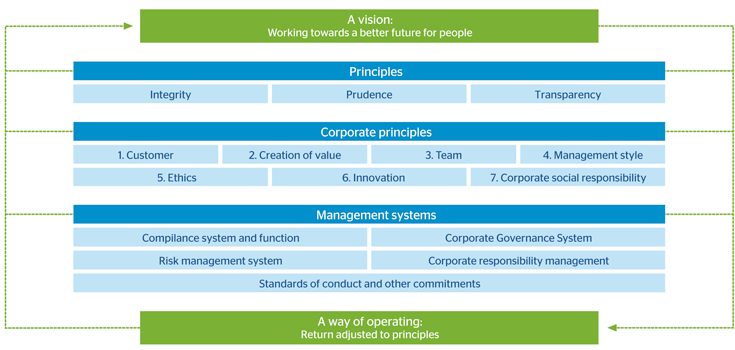 As the main expression of these principles, BBVA Group has defined seven corporate values that sum up the application of its principles in the Organization's daily activity.
2 BBVA's seven corporate values