This unit includes the Retail Network, with the household customer, private banking and small companies and retailer segments in the Spanish market; Corporate and Business Banking (CBB), which handles the needs of the SMEs, businesses, corporations and public sector; and other businesses, including BBVA Seguros.
As of 31-Dec-2012, Retail and Commercial Banking manages a loan book of €192,076m, up 0.6% on the figure posted in 31-Dec-2011, and on-balance-sheet customer funds, including promissory notes, of €120,465m, a 21.1% increase compared with the previous year. Thus there is a clear improvement in the unit's liquidity gap.
Within the Retail Network, at the end of 2012 the loan book stood at €96,655m, down 5.4% on the figure in December 2011, and on-balance-sheet customer deposits totaling €85,970m, i.e. an 11.3% increase over the same period.
Marketing actions worth mentioning in the unit in 2012 includes:
BBVA anticipates the effects of the crisis and continues to offer its customers a range of financial solutions geared toward preventing any possibility of those customers willing to pay, but facing difficulties, from ceasing to pay their loans and, ultimately, perhaps losing their homes. To date, over 53,000 families have benefited from these measures.
Two new "Quincenas de Cuentas Abiertas" (Open Account Fortnights) have been carried out that allowed access to a promotional gift for opening deposits and arranging loans, setting up direct deposits for payroll and pension payments, in addition to signing insurance and pension plans. A total of 404,000 gifts were given, and €1,183m in funds and 7,000 new policies were gathered.
As part of the area's policy of increasing the customer base using funds and transactional banking as key levers, the "Adiós Comisiones" campaign was launched, which eliminates account fees charged to customers whose pensions or salaries are paid directly into their accounts, offers free-of-charge debit or credit cards, and also provides additional benefits to customers in other financial products as a reward for their loyalty to the Bank.
In time deposits, throughout 2012 BBVA has focused on launching products which link return to the degree of loyalty to the Bank. Star products are "Depósito BBVA UNO", "Depósito BBVA Tu Banco" and "Depósito creciente 1-2-3". Furthermore, management of maturities in time deposits was particularly successful throughout the year, with retention rates of over 88%.
In short, this strategy focused on growth through funds and transactional banking has enabled the Bank to increase the number of non-basic customers by over 89,000 in 2012 and the share in payrolls and pensions by 50 basis points over the course of the year.
12 Spanish Retail Network. Market share in public administrations, commercial activity and promissory notes 
versus

the system

(Percentage)

Several relevant projects were carried out in 2012, including:
Progress in the

"internetization"

of the customer relations model with the implementation of a number of initiatives, including the following:

Launch of "BBVA Game." This is a game for BBVA Net users that aims to promote the use of on-line banking. It allows customers to win points they can exchange for gifts and entries to prize draws.
Creation of a SICAV module on the customer website, which allows shareholders to monitor their investments in real time.
Significant increase in the number of users of native applications for smartphones and tablets. By the end of 2012, BBVA had nearly 2 million active users on the Internet. Currently over 3,000 customers a day are registering on the BBVA Internet service.

Highlights in

innovation

include:

Deployment of the pioneering contact-less technology for non-contact payments. This system allows customers to carry out transactions of up to €20 by simply bringing a card close to a reader without signing or entering the PIN number. As part of the plan, and to make it easier to pay for taxis in Madrid, BBVA and Radioteléfono Taxi in Madrid have presented the new point-of-sale (POS) terminals that passengers can use to pay for taxis in the fleet using contact-less cards.
Development of the remote customer relation model, specifically with the BBVA Contigo initiative launched last year and based on a remote relationship with customers who require personalized advice as a complement to the use of non-personal channels. As of today it provides service to over 300,000 customers. In the last quarter of 2012 alone, 90,000 customers have signed up for "BBVA Contigo".
BBVA has also continued with its developments for mobile devices, adding new features to mobile banking, such as top-up of cards, and adapting to the new devices that have come on to the market, such as the version for the Windows 8 platform launched in October. The number of customers actively using cell phones to check their accounts and operate has increased threefold during 2012.
Within the Retail Network, a number of initiatives have been carried out with the aim of improving the quality of the service provided to the customers in the premium segment:
Process for reclassifying customers in the "value" segment (over €60,000 in funds, or monthly net salaries of over €3,000) and "high value" segment (over €300,000 in funds or monthly net salaries of over €6,000) to adapt the quality of service and value offer to the specific needs of each person and each situation.
Presentation of the exclusive "The Family Wealth Community", an on-line platform that offers this segment a unique and private service, with up-to-date information prepared by specialists on topics that have the most relevance for their interests. This is part of the Bank's firm commitment to innovation, the use of new technologies, multi-channel banking and new digital media that enable a closer relationship with the customer.
This segment continues the strategic approach started two years ago in Private Banking, with special emphasis on capturing and retaining customers, in addition to differentiation. The result of this strategy has been year-on-year growth of 4.8% in customers (latest available figure, November 2012) and of 4.5% in funds managed. This year, in terms of assets under management, BBVA Partrimonios remained the leading bank in the segment, according to the latest figures released by Inverco, with more than €2,810m (13.4% market share) corresponding to 287 SICAVs.
Corporate and Business Banking (CBB), which manages a loan book of €85,650m (down 2.9% year-on-year) and on-balance-sheet customer funds of €22,470m (up 5.2%), has also been closely focused on retaining and gathering customer funds as a way of consolidating and boosting customer loyalty. To do so, it has offered a full range of products with competitive remuneration and great flexibility, which has made it possible to gather over €12,000m in time deposits over the last quarter of the year. The following are the most important points in this respect in 2012:
Supporting Spanish companies has been a priority for the Bank. In this regard, BBVA has confirmed its leading role in the distribution of credit lines under preferential conditions with the signing of the

ICO-2012 Agreement

, with lines such as "Investment", "Internationalization", "Liquidity", "Entrepreneurs", "Home Restoration", "SGR Guarantee" and others intended for segments such as foreign trade, the domestic market and tourism. In addition, BBVA has also signed the new lines "Film Production", "Emprendetur" and "Lorca Earthquake and Isla del Hierro". Lastly, BBVA has signed a new line for local administrations in order to provide them with liquidity for paying the outstanding debts they have with businesses and self-employed workers. The Bank has signed 21,673 operations amounting to €1,438m, i.e. a share of 12.5%.
In

corporations

, BBVA is the absolute market leader and the benchmark in this segment, with a 95.6% penetration share and 48.6% first supplier share, thanks to the Group's outstanding service and customer relations model.
The new "Smart Business" campaign has been launched for

SMEs and self-employed workers

, aimed at offering better service and making the most appropriate offer for each client. Working with POS terminals, it offers a number of special services such as point-of-sale finance, for customers with BBVA cards, with the possibility of advancing part of the revenues collected by the terminals. In the present adverse environment, an increase of 6% has been achieved in POS terminal revenues from the SME segment.

Agreements

were renewed with: the National Association of Self-Employed Workers (ATA), with 450,000 members; the National Federation of Lottery Associations (ANAPAL), with more than 5,000 members; the Spanish Hotel Trade and Modern Catering Association (FEHRCAREM), with more than 3,000 franchises; the Spanish Trade Confederation (CEC), with 450,000 members; IAC Automoción, with 1,500 members; the Union of Tobacco Dealers (UAEE), with 11,000 members; and FEHR (Spanish Hotel Trade and Restaurants Federation), with 270,000 members in the sector. Furthermore, 15 partnership agreements have been signed with Chambers of Commerce across Spain, which will BBVA offer its products to over 1 million companies and self-employed workers associated with these organizations.
In

Public sector

, it is important to highlight BBVA's participation in the supplier payment mechanism - with a contribution of €2,600m- implemented by the government in late February. This measure was designed to inject liquidity into the Spanish productive system as a whole. Also noteworthy is the Bank's advisory services given to the Ministry of Economy and Competitiveness and the Ministry of Finance and Public Administrations for the creation and development of the Regional Liquidity Fund (FLA). The Spanish banking system will contribute €8,000m to this initiative, and BBVA's contribution will be €1,600m.
The Insurance unit comprises several companies with the strategic goal of becoming the benchmark in the insurance business among the different BBVA customer segments. It manages an extensive range of insurance products through direct insurance, brokerage and reassurance, using various networks. Insurance reported a positive trend during 2012, with written premiums totaling €2,128m (up 13% year-on-year). This increase is largely due to the €1,608m contributed by the life-savings business (up 21% year-o-year), bringing the funds managed by the Bank in savings insurance to €9,501m (up 8% year-o-year). According to ICEA, at the end of the third quarter of 2012 (latest available figures), BBVA Seguros was the leader in the issue of premiums for Individual Systematic Savings Plans products (PIAS), having reached a 30% market share in premiums, after issuing €372m. Risk businesses for both life and non-life amounted to €520m in premiums issued. The unit has also brokered premiums for other companies for €178m.
13 Market shares in PIAS as of 31-Sep-2012. BBVA Seguros and main competitors (1)
(Percentage)

(1) Market share in issued premiums.
As of 31-Dec-2012, BBVA Seguros has over 2.8 million policyholders, who receive a very high service quality. Periodic independent measurements granted the home insurance policies an average score of 7.8 out of 10 for service received during the claims process, due to resolving over 95% of life claims and 99% of home claims without complaints.
14 BBVA Seguros. Policyholder breakdown
(Thousands policies: 31-12-2012)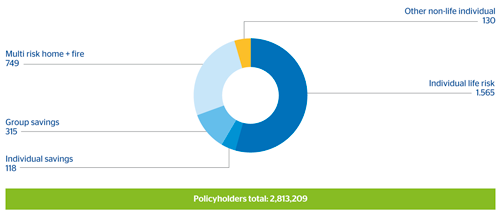 In 2012, BBVA Seguros has improved the offering of "Seguros Remunerados" (remunerated insurance), with the aim of attracting new customers and rewarding the loyalty of existing policyholders, offering discounts of up to 35%. Following the customer-centric approach to business, the Bank launched the new "BBVA Car Insurance Policy" in the third quarter of 2012. This is a flexible product which can be adapted to the customer's needs and allows BBVA Seguros to continue diversifying its lines of business. The Bank began marketing a new life insurance catalog in the last quarter of the year which enables a high degree of customization, as it can be adapted to the type of protection each customer needs, thanks to the modular nature of the product in terms of arranging insurance and the flexibility in adapting it later.