In a context shaped by adjustment plans and economic slowdown, BBVA confirms its leading position within the Spanish financial system. This leadership is evidenced in terms of its competitive positioning, profitability, efficiency and asset quality.
1 Spain. Competitive positioning. Leadership by segment
(Percentage)
(1) Source: ASAP.
2 Spain. Operating income and business volume per branch 
versus

peer group (1)

(Thousand euros)

(1) Peer group: Santander Spain, Caixabank, Popular, Sabadell and Bankinter.
3 Spain. Efficiency ratio 

versus

peer group(1)

(Percentage)

4 BBVA Spain NPA ratio 

versus

peer group (1)

(Percentage)
(1) Peer group: Santander Spain, Caixabank, Popular, Sabadell and Bankinter.
Four management keys are at the root of the area's performance during 2012:
First, against a fiercely competitive background, BBVA has maintained its strategy of increasing its customer base, using the key levers of funds and transactional banking. Over €45,000m have been gathered in customer funds, consisting of deposits and promissory notes; the bank has continued to gain market share in payrolls and pensions and, according to FRS, it has grown 20 basis points in the first supplier share, to 10.6% (not including Unnim). BBVA has launched the "2012 Customer Strategy Plan" with a twofold objective: 1) to attract new customers and 2) to increase the loyalty of existing customers. The following are some of the actions undertaken to achieve these objectives: The start of the "Plan Sinergias" to attract new customers. The aim is to attract individual customers from among the employees of institutional and corporate clients.
5 Spain. Market share gain
(Basis points from December 2011 to December 2012)
(1) Including public sector, commercial activity deposits and promissory notes.
Second, there has been good pricing management, with strict control of liability costs and major repricing efforts in asset products.
6 Spain. Time stock cost compared with the system
(Percentage)
Third, the strict cost control policy, which is critical for recurrence of operating income.
7 Spain. Efficiency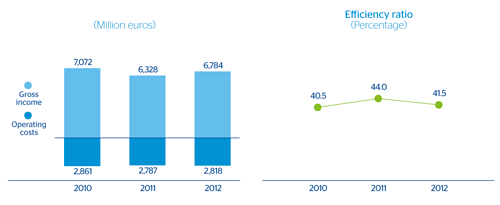 Fourth, although the impairment in asset quality has continued in the system, BBVA has managed to set itself apart from the competition, as shown in chart

4

, thanks to a risk policy based on permanent efforts in anticipation and control.
Looking ahead to the future, and continuing with its differentiation strategy from the competition, BBVA's actions in Spain will be carried out on three fronts:
First, the commercial strategy will be focused on increasing the customer base, using fund gathering and transactional banking as key levers.
Second, other activities which can generate extra revenue in an environment of falling lending volumes will be boosted, especially sale of insurance products.
Third, BBVA's leading position in the system will allow it to continue investing: in quality, to develop a service centered on improving the customer's experience, and in technology to continue to transform its distribution model and integrate physical and virtual banking, on the one hand, and to increase the automation and digitizing of processes in order to enhance their efficiency and reliability, on the other hand.
These lines axes of action will continue to reinforce the Group's presence in Spain and BBVA's leadership in the technological transformation of the industry.
In conclusion, thanks to its positioning and differential strength, BBVA is managing to exploit the opportunities arising in a market undergoing a far-reaching process of transformation.