The brand's value lies in the perception people have of it
BBVA brand is one of the Group's intangible assets. It is intangible because the brand's value lies in the perception that our stakeholders have of us. It is these perceptions which give value to our brand, they are the reason why our customers prefer to work with us. This perception that our stakeholders have is based on the promise they receive from the Group. The promise becomes a perception when it is delivered consistently through the various points of contact between the Bank and our stakeholders. And it is because of this idea they have of us that our customers recommend us to their friends. The Group therefore identifies BBVA brand with the promise its makes to its stakeholders and the experiences they share with it.
BBVA: a Bank that makes life easier for its customers
Based on this idea we have worked to understand the most relevant aspects of this promise. This is how the BBVA brand positioning originates: a Bank that makes life easier for its customers.
At BBVA we are committed to simplicity
Simplicity is the differential way we have of being customer-centric. We want to change the banking world by offering our customers the financial products they need in a language they understand; we want to help them manage their money efficiently, without having to devote more time than necessary to this task, knowing that they understand down to the last detail what they are signing.
This commitment to simplicity is based, above all, on four core elements that play a decisive role in each point of contact with our customers, both current and potential: branches, remote customer service, communication, etc.:
1.    Flexibility and agility, which have to do with simplifying paperwork, expediting procedures, offering solutions to their problems and cutting waiting times.
2.    Accessibility and convenience, i.e. an extensive branch network and a physical and remote distribution model tailored to the needs of our customers.
3.    Closeness: more personalized service.
4.    Clear and transparent language: more and clearer information.
3 Simplicity in communication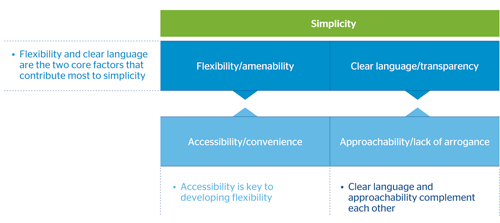 Our communication in 2012 has continued to make progress in the implementation of the BBVA brand positioning and of its corporate identity.
A new communication model that gives BBVA brand the leading role
We have continued to develop the new communication model. As was mentioned in last year's report, the Bank has shifted from a product-based communication model to one that gives the brand the leading role. It communicates a unique and global positioning based on simplicity for all areas and business units and for the Bank's target audience. The worldwide result is:
A unique BBVA positioning.
A single message, adaptable to each area and/or business unit ("glocal" approach).
A single advertising culture throughout the Group.
With this new positioning, products become instruments for communicating the brand's values.
A single corporate identity that enables the brand to be identified quickly and clearly
As well as this, progress has been made to build the new corporate identity, which aims for:
A simple and differential style of communication, in line with the brand positioning.
The use of clear and transparent language.
A single visual image identifying the brand quickly in all its applications and distribution channels.
This new corporate identity has been implemented across all online and offline advertising communication. It is also being incorporated into all the means of payment, corporate equipment, branches and corporate buildings.
The communication strategy through Internet and social media reinforces the brand's positioning
For BBVA, the social media are fundamental to improve customer relations. For this reason, the Bank's presence in the new media, always underdevelopment, is everyone's responsibility. Many teams specialized in various areas (Communication and Brand content generation, development of innovative formats in New Digital Channels, marketing departments in the different countries and customer service areas, Human Resources, BBVA Research, Innovation, etc.) contribute to improving the service provided through these channels. Collaboration among experts in various areas leads to effective management and coordination of communication in today's changing and difficult environment.
On the premise that there is not only one, but several BBVAs that specifically address the needs of each customer, the best way of serving users wherever they are is through social media. BBVA community in the social media is growing every day and already has more than 3.7 million followers. This data, which is updated on a daily basis, is available via new visual graphics on the corporate blog bbvasocialmedia.com. These visual graphics are designed to be interactive, so the user can access the BBVA profiles listed by country in a highly visual and intuitive way. It is also dynamic, since the global data and the information posted on the social medias are updated automatically every 24 hours. Currently, 131 profiles are included under the umbrella of the BBVA brand on Facebook, Twitter, Linkedin, YouTube and Google+ in 12 countries around the world.
BBVA's sponsorship strategy is based on three pillars: recognition, positioning in values and commercial operation
Sponsorships are another channel used by BBVA to reinforce the brand's attractiveness, by associating BBVA with universal domains of global scope which share values with the Bank's corporate culture. All this under a strategy that should be based on three basic pillars: recognition, positioning in values and commercial operation.
Soccer and basketball are the most important universal domains with which BBVA is associated. It is worth mentioning again the following sponsorships: the Professional Soccer League in Spain, officially known as Liga BBVA and Liga Adelante; BBVA Francés' sponsorship of the two greatest clubs in the history of soccer in Argentina (Boca and River); and sponsorship of the NBA, which includes the WNBA and the NBA Development League in the United States, Mexico, South America, Spain, Portugal and Turkey.
In soccer, BBVA has developed a number of initiatives, such as the brand's presence in all Liga BBVA broadcasts worldwide; the development of a digital ecosystem, "Liga BBVA", with content of interest to users that integrates the brand in an effective and natural way; the creation of experiences such as "La Jornada de Tu Vida" (The Day of your Life); and links with soccer-related social projects.
Several initiatives are worth mentioning in basketball, such as the "NBA blue experience", which rewards "blue customers" with trips to the United States to watch an official NBA game; BBVA's involvement with the social program "NBA Cares"; and the naming of BBVA and its subsidiary BBVA Compass as "NY Sports Marketer of the Year" for their commitment to the NBA and BBVA Compass Bowl. 2012 also saw the inauguration of the BBVA Compass soccer stadium in Houston. This event was mentioned more than 1,800 times in the media following its opening ceremony, equivalent to nearly 29 million dollars of advertising value, and resulted in many soccer fans opening credit card accounts. BBVA Compass also partners the home team, the Houston Dynamo, in the "Building a Better Community" project. This includes rebuilding homes and revitalizing the green areas around the stadium, as well as improving children's education.
In addition, BBVA has launched the "BBVA Ambassadors" project, which brings together famous people from various walks of life through aspects that share fundamental BBVA values, such as the spirit of self-improvement, integrity, cooperation, humility and responsibility. The collaboration between BBVA and its brand ambassadors extends beyond the use of their image in advertising campaigns. They also participate in activities related to corporate responsibility, particularly in the most disadvantaged parts of the world, and support initiatives with children and young people. BBVA began the "BBVA Ambassadors" program with Iker Casillas and Andrés Iniesta, two of the stars of Liga BBVA and champions of the world and of Europe with the Spanish National Soccer Team. Carlos Soria is the latest addition to "BBVA Ambassadors". At 74 years of age, this mountaineer has set himself the challenge of climbing the 14 highest mountains in the world. The program is also accompanying him on the "Momentum Himalaya" project, an initiative in the Nepali village of Sama (at 3,500 meters above sea level) that is developing various methods of sustainable finance for a local school providing a home for 120 children in the area.
BBVA brand management, once more, highly valued by experts
Brand management in 2012 was highly valued by experts for yet another year. In 2012, the sustainability analysis agency SAM (Sustainable Asset Management) improved its overall ranking of BBVA brand management, granting the Bank a top score, well above the average for the financial sector. This agency evaluates the companies listed on one of the most prestigious sustainability indices, DJSI (Dow Jones Sustainability Index).
4 BBVA brand management score in 2012
(Scale 1 to 100)

Source: SAM.
One of the aspects that continues to be most highly valued by experts is the system of standardized measurement tools to monitor how the brand is perceived in the main countries in which the Group operates. Awareness of the BBVA brand and its reputation has stabilized or improved in most countries in which the Bank operates.
BBVA brand awareness
(Scale 1 to 100)

Download Excel


Spain
Mexico
Argentina
Chile
Peru
Colombia
Venezuela
The United States


2012
2011
2012
2011
2012
2011
2012
2011
2012
2011
2012
2011
2012
2011
2012
2011
Awareness
68.4
64.6
88.7
88.8
77.3
78.9
19.0
19.8
74.0
77.0
20.9
28.2
67.8
62.8
14.2
15.9
Awareness (ranking position)
1st
1st
1st
1st
3rd
3rd
5th
5th
2nd
2nd
6th
5th
2nd
2nd
6th
7th
Reputation with customers
73.8
74.5
68.9
70.7
78.5
75.7
64.9
71.0
77.0
73.8
65.5
69.1
80.5
71.9
74.0
71.5
The data for awareness and reputation are for the whole year (January to December).
A variation between two years is only statistically significant when it is greater than or equal to 2.1 for reputation and 4 for awareness.
Awareness data source: Advance Tracking Programme, MillwardBrown.
Reputation data source: RepTrak, Reputation Institute.
Spain: Santander, La Caixa, Banesto, ING Direct, Bankia, Banco Popular, Bankinter and Banca Cívica.
Mexico: Santander, Banamex, HSBC, Banorte, Scotiabank, Inbursa and Banco Azteca.
The United States: Bank of America, Capital One, Chase, Regions, Wells Fargo, Citibank and Wachovia.
Argentina: Santander Río, Banco Galicia, Banco Provincia, Standard Bank, Citi, Banco Nación, Banco Patagonia/Sudameris, HSBC, Banco Ciudad and Itaú/Buen Ayre.
Chile: Banco de Chile, Santander, Scotiabank, Itaú, BCI, Falabella, Eduardsciti, Banco Estado, HSBC, Corpbanca and BICE.
Colombia: Banco de Bogotá, Bancolombia, Citibank, Colmena BCSC, Davivienda, AV Villas, Banco de Occidente, Banco Caja Social, Colpatria, Grupo Aval, Éxito and Corpbanca.
Peru: Banco de Crédito, Interbank, Banco de la Nación, HSBC, Scotiabank, Citibank, Banco Falabella, Banco Azteca, Crediscotia and Banbif.
Venezuela: Banesco, Banco Mercantil, Banco de Venezuela and BOD.