Both Garanti and CNCB continued to perform well in 2012. They helped Eurasia post a gross income in 2012 of €2,210m, a rise of 12.7% year-on-year, through their capacity to generate recurring revenue.
Operating expenses increased by 20.0% in the same period, as a result of continued investments, mainly in emerging countries. As a result, operating income increased by 9.0% on the figure posted 12 months previously to €1,432m.
17 Eurasia. Efficiency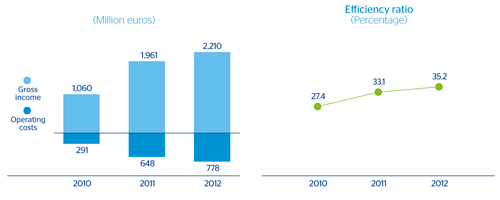 18 Eurasia. Operating income
(Million euros)

Impairment losses on financial assets and provisions reduced the area's income statement by €328m. In fact, this heading rose significantly in the fourth quarter of 2012 due to one-off provisions made in Portugal.
As a result, Eurasia generated a cumulative net attributable profit of €950m, with a year-on-year fall of 7.8% on the same period in 2011.
19 Eurasia. Net attributable profit (adjusted)
(Million euros)

Europe has contributed 34.8% to the above result, i.e. €331m (down 28.8% year-on-year). Of particular note is the continued excellent performance of Turkey, whose earnings stand at €314m, a rise of 62.8% on the previous year (partly because Garanti contributed for the 12 months in 2012, while in 2011 it began to contribute at the end of March). In the rest of Europe, the net attributable profit fell 93.9% in the same period to €17m. This is due to reduced activity with wholesale customers, turbulence in the markets and the aforementioned loan-loss provisions made in Portugal.
Garanti is a bank that serves 11.7 million customers with a workforce of 20,318 people. It has a network of 936 branches and 3,508 ATMs. It covers all business segments, ranging from retail to investment banking, and including the service it provides to small businesses and large corporations. Garanti's dynamic business model is founded upon the continued development of technologies to make customer transactions easier. For that reason, innovative payment systems and mobile and online banking are flagships for the Bank's identity.
20 Garanti Bank. Market shares as of 31-Dec-2012
(Percentage)

(1) Data as of 30-Sep-2012, latest available data.
Source: BBVA
Garanti works to create value for its customers and shareholders, in addition to society as a whole. It therefore supports initiatives in areas such as childhood, the environment, equality and culture. Support program for women entrepreneurs, helping them access to loans and hosting various events to increase their visibility, were distinguished among social responsibility projects of 2012. Also, in association with the Turkish basketball federation, for which it is the leading sponsor, Garanti has financed programs to promote access to this sport in schools across the country. In addition, it supports cultural foundations such as SALT, and organizations that seek to preserve the ecosystem and biodiversity, such as WWF.
The most notable aspects of the Turkish bank in 2012, are as follows (data for Garanti Bank, unless otherwise indicated):
Continued progress in

lending

(up 9.4% year-on-year), particularly in the local currency (up 16.0%). There has been a notable boost in the retail portfolio, with positive growth rates that are above the sector average, in highly profitable products such as loans to the automobile sector (up 10.6% year-on-year at Garanti versus 2.9% in the sector) and mortgages (up 15.4% at Garanti and 13.4% in the sector).

Customer deposits

have continued to rise (up 1.4% in the year) thanks to the strong growth in Turkish lira-denominated deposits (up 4.3%).
Excellent management of

customer spreads

, thanks mainly to a reduction in the cost of liabilities. In the fourth quarter of 2012 this cost fell once more, leading to an additional increase in the spread and thus an improvement in the bank's profitability ratios.
The above, together with the high yield generated by inflation-linked

bonds

, has helped strengthen the bank's gross income.
In addition, Garanti Group is notable for its high core Tier I

capital

ratio (16.9% as of December 2012) under Basel II, where it leads the field among its peers.
To sum up, increased activity, a diversified revenue base and disciplined cost management have allowed the Garanti Group to generate a

net attributable profit

of €1,453m in 2012 (€1,327m in Garanti Bank).
Garanti. Significant data as of December 2011 and 2012 (1)

Download Excel
| | 31-12-12 | 31-12-11 |
| --- | --- | --- |
| Financial statements (million euros) | | |
| Attributable profit | 1,327 | 1,313 |
| Total assets | 68,019 | 60,020 |
| Loans to customers | 38,990 | 34,305 |
| Deposits from customers | 35,530 | 33,791 |
| Relevant ratios (%) | | |
| Efficiency ratio | 46.7 | 44.3 |
| NPA ratio | 2.3 | 1.8 |
| Other information | | |
| Number of employees | 20,318 | 16,775 |
| Number of branches | 936 | 918 |
| Number of ATMs | 3,508 | 3,268 |
(1) BRSA data for the Garanti Bank.
21 Garanti. Composition of assets and lending portfolio (1)
(December 2012)

(1) BRSA data for the Garanti Bank.
22 Garanti. Composition of liabilities (1)
(December 2012)

(1) BRSA data for the Garanti Bank.
Finally, Asia has posted a cumulative net attributable profit of €620m, accounting for 65.2% of earnings in the area. Most of this amount comes from the contribution from CNCB. According to the latest data published as of September 2012, the bank's cumulative net attributable profit increased by 12.4% year-on-year. With respect to activity, deposit gathering stands out, with a bigger increase than in lending (up 19.7% and 15.3% in year-on-year terms, respectively). Finally, CNCB improved its capital ratio to 13.7% at the close of the third quarter of 2012 (under local criteria).

Download Excel
23 Eurasia. Lending
breakdown by
geographical area




(31-12-2012)





24 Eurasia. Customer deposits
breakdown by
geographical area




(31-12-2012)




25 Eurasia. Gross income breakdown by
geographical area




(31-12-2012)





26 Eurasia. Net attributable profit breakdown
by geographical area




(31-12-2012)