Impairment losses on financial assets in the second quarter totaled €1,336m, an amount slightly lower than the figure registered in the previous quarter. In the first half of the year as a whole, this heading amounted to €2,712m, compared with €3,267m in the same period in 2012, which included a part of the impairment related to real estate assets in Spain.
Impairment losses on financial assets
(Million euros)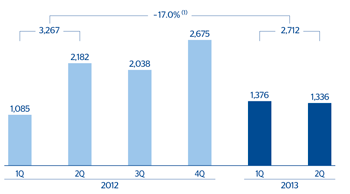 (1) At constant exchange rates: -17.0%.
Provisions of €130m were posted in the quarter, with a total of €297m for the first half of the year. The main components continue to be early retirement costs and, to a lesser degree, provisions for contingent liabilities, contributions to pension funds and other commitments to staff.
Other gains (losses) basically include the provisions made for real estate and foreclosed or acquired assets in Spain, as well as the capital gains generated from the reinsurance operation completed in the first quarter on the individual life and accident insurance portfolio in Spain. In the first half of the year this heading totaled a positive €170m, compared with the negative €535m posted in the same period last year.
Lastly, net profit from discontinued operations includes the ordinary earnings from the Group's pensions business in Latin America, as well as the capital gains from the sale of Afore Bancomer in Mexico in early 2013 and the sale of the pension fund administrators in Colombia and Peru in the last quarter. Accordingly, capital gains, net of tax, from the disposals closed in the second quarter of 2013 stand at €471m.