BBVA generated a net attributable profit for the third quarter of 2011 of €804m. There are two main factors that characterize the accounts for this period: on the one hand, the zero contribution from NTI; and on the other hand, the growth of the most recurrent earnings in the Group, i.e. the gross income excluding NTI or dividends. The following should be highlighted in this respect:
The positive performance of net interest income, which was up 2.2% in the quarter. This is due to the positive contribution of emerging markets and the resilience of net interest income in developed countries.
The greater contribution from net income by the equity method, thanks to the positive performance of CNCB.
As a result, the quarterly gross income excluding NTI or dividends was €4,602m, continuing with the upward trend since the start of the year.
Net attributable profit
(Million euros)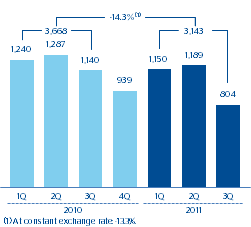 Finally, both operating expenses and impairment on financial assets were at similar levels to the previous quarter.
Consolidated income statement: quarterly evolution
(Million euros)


2011


2010


3Q
2Q
1Q


4Q
3Q
2Q
1Q
Net interest income
3,286
3,215
3,175


3,138
3,245
3,551
3,386
Net fees and commissions
1,143
1,167
1,114


1,135
1,130
1,166
1,106
Net trading income
(25)
336
752


252
519
490
633
Dividend income
50
259
23


227
45
231
25
Income by the equity method
150
123
121


124
60
94
57
Other operating income and expenses
22
62
79


70
85
47
93
Gross income
4,627
5,162
5,263


4,946
5,084
5,579
5,301
Operating costs
(2,461)
(2,479)
(2,359)


(2,325)
(2,262)
(2,262)
(2,118)
Personnel expenses
(1,325)
(1,306)
(1,276)


(1,240)
(1,211)
(1,215)
(1,149)
General and administrative expenses
(920)
(964)
(887)


(887)
(855)
(855)
(796)
Depreciation and amortization
(216)
(208)
(196)


(199)
(197)
(192)
(174)
Operating income
2,166
2,683
2,904


2,621
2,821
3,317
3,183
Impairment on financial assets (net)
(904)
(962)
(1,023)


(1,112)
(1,187)
(1,341)
(1,078)
Provisions (net)
(94)
(83)
(150)


(75)
(138)
(99)
(170)
Other gains (losses)
(166)
(154)
(71)


(273)
113
(88)
(72)
Income before tax
1,002
1,484
1,659


1,162
1,609
1,789
1,862
Income tax
(95)
(189)
(369)


(127)
(359)
(431)
(510)
Net income
907
1,295
1,290


1,034
1,250
1,358
1,352
Non-controlling interests
(103)
(106)
(141)


(96)
(110)
(70)
(113)
Net attributable profit
804
1,189
1,150


939
1,140
1,287
1,240
Basic earnings per share (euros)
0.17
0.25
0.25


0.22
0.28
0.32
0.31
Consolidated income statement
(Million euros)










January-Sep. 11
∆%
∆% at constant
exchange rates
January-Sep. 10
Net interest income
9,676
(5.0)
(3.0)
10,182
Net fees and commissions
3,424
0.7
2.5
3,402
Net trading income
1,063
(35.3)
(34.0)
1,642
Dividend income
332
10.2
10.7
302
Income by the equity method
394
86.6
86.6
211
Other operating income and expense
163
(27.5)
(32.3)
225
Gross income
15,052
(5.7)
(4.0)
15,964
Operating costs
(7,299)
9.9
12.3
(6,642)
Personnel expenses
(3,907)
9.3
11.5
(3,575)
General and administrative expenses
(2,771)
10.6
13.2
(2,506)
Depreciation and amortization
(620)
10.4
13.6
(562)
Operating income
7,753
(16.8)
(15.6)
9,322
Impairment on financial assets (net)
(2,890)
(19.9)
(18.4)
(3,606)
Provisions (net)
(328)
(19.7)
(19.2)
(408)
Other gains (losses)
(391)
n.s.
n.s.
(47)
Income before tax
4,145
(21.2)
(20.1)
5,260
Income tax
(652)
(49.8)
(49.0)
(1,300)
Net income
3,492
(11.8)
(10.6)
3,960
Non-controlling interests
(349)
19.3
24.5
(293)
Net attributable profit
3,143
(14.3)
(13.3)
3,668
Basic earnings per share (euros)
0.66
(26.9)
n.s.
0.90