In BBVA we focus on shareholder value creation, as we have proven most recently:
Successfully navigated through the crisis with clear priorities:
Continued providing an essential service and supporting our customers thanks to our digital capabilities and remote managers. We have alleviated the financial burden on families and businesses through €63 billion of deferrals, and in government aid programs.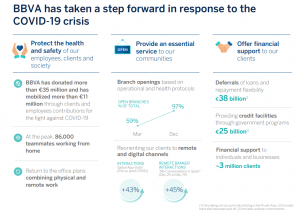 Advanced in our strategy addressing accelerating trends:
Our leadership in digital has proven to be essential and differential. In 2020 our mobile customers reached a 59% penetration rate. Additionally, our focus on building E2E digital products has enabled BBVA to acquire 33% of new customers through digital channels, which represents an increase of 56% vs 2019.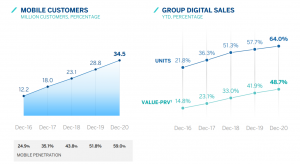 We continue to successfully deliver on our sustainability strategy towards a more inclusive and sustainable society.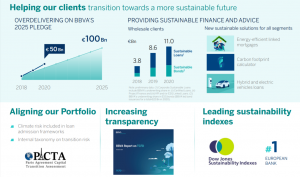 Delivered excellent financial results despite a challenging environment, with an +11.7% increase in our operating income in constant euros in 2020 vs. 2019, driven by core revenue growth and strict cost control, improving capital position and tangible book value per share recovery in the year.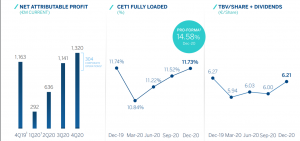 Thanks  to a well-diversified footprint with local leading franchises (link)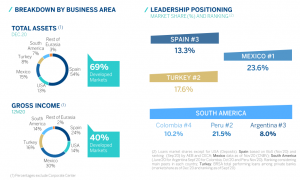 The sale of BBVA US shows our disciplined value-based approach to capital allocation, unlocking value and offers strategic optionality to the Group with € 8.5 billion of capital generation. We will deploy the excess capital:
– In our markets through profitable growth and cost's reduction
– Through increased distributions to our shareholders.