Purpose, values and strategic priorities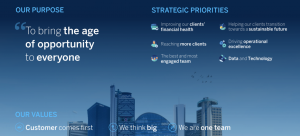 We are a purpose driven organization with a clear purpose " to bring the age of opportunity to everyone", solid values and six strategic priorities:
Improving our clients' financial health: Help our clients to make better decisions with their money and manage their finances to achieve their life and business goals.
Helping our clients transition toward a sustainable future: Progressively align our activity with the Paris Agreement and advise our clients with the transition towards a more sustainable future.
Reaching more clients: Accelerate profitable growth by being where our clients are, leveraging our digital channels and those of third parties.
Driving operational excellence: Provide the best customer experience with simple, automated processes and a continuous focus on risk management and optimal capital allocation.
The best and most engaged team: A diverse and empowered team guided by our Purpose, Values, and Behaviors, propelled by a talent development model that creates growth opportunities for all team members.
Data and Technology: using advanced data analytics and secure and reliable technologies as the main levers to build distinctive high-quality solutions and deliver on our strategy.