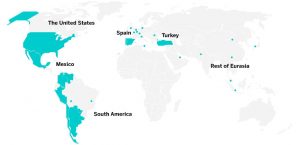 This scheme makes risk perception easier and offer better estimations of future growth perspectives.
Banking activity in Spain
Includes the Retail Network in Spain, Corporate and Business Banking (CBB), Corporate & Investment Banking (CIB), BBVA Seguros and Asset Management units in Spain. It also includes the portfolios, finance and structural interest-rate positions of the euro balance sheet.
Non Core Real State
Covers specialist management in Spain of loans to developers in difficulties and real-estate assets mainly coming from foreclosed assets, originated from both, residential mortgages, as well as loans to developers. New loan production to developers or loans to those that are not in difficulties are managed by Banking activity in Spain.
United States
The United States includes the Group's business activity in the country through the BBVA Compass group and the BBVA New York branch.
Turkey
Turkey includes the activity of the Garanti Group.
Mexico
Mexico basically includes all the banking and insurance businesses carried out by the Group in the country. Since 2018 it has also included the BBVA Bancomer branch in Houston (in previous years located in the United States). Consequently, the figures from previous years have been reworked to incorporate this change and show comparable series.
South America
South America basically includes the banking and insurance businesses businesses in the region.
Eurasia
The rest of Eurasia includes includes the Group's retail and wholesale business activity in the rest of Europe and Asia.
Corporate Center
The Corporate Center is an aggregate that contains the rest of the items that have not been allocated to the
business areas, as it corresponds to the Group's holding function. It includes: the costs of the head offices that have a
corporate function; management of structural exchange-rate positions; specific issues of equity instruments to ensure
adequate management of the Group's global solvency; portfolios and their corresponding results, whose management is
not linked to customer relations, such as industrial holdings; certain tax assets and liabilities; funds due to commitments
with employees; goodwill and other intangibles.
Corporate & Investment Banking
In addition to this geographical breakdown, supplementary information is provided for all the wholesale businesses carried out by BBVA, Corporate & Investment Banking (CIB). This aggregate business is considered relevant to better understand the Group because of the characteristics of the customers served, the type of products offered and the risks assumed.