As a result, BBVA has generated a net attributable profit for the quarter of €1,734m. Excluding the result of Real-estate in Spain, the profit from the pension business in Latin America and the reinsurance operation mentioned above, the Group's adjusted quarterly net attributable profit reached €865m (€1,231m during the first quarter of 2012).
By business areas, Spain registered earnings of €569m, Real-estate in Spain a loss of €346m, Eurasia contributed €179m, Mexico €435m, South America €348m and the United States €95m.
Lastly, earnings per share (EPS) from January to March 2013 stand at €0.31 (€0.16 in terms of adjusted earnings), return on total average assets (ROA) is 1.25% (0.69% adjusted), return on equity (ROE) reaches 16.2% (8.1% adjusted), and the return on tangible equity (ROTE) is 20.1% (10.0% adjusted).
Earnings per share (1)
(Euros)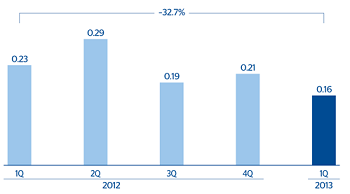 (1) Adjusted.
ROA (1)
(Percentage)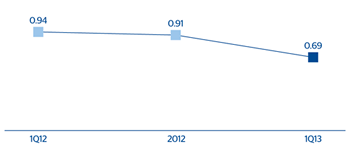 (1) Adjusted.
ROE (1) y ROTE (1)
(Percentage)
(1) Adjusted.